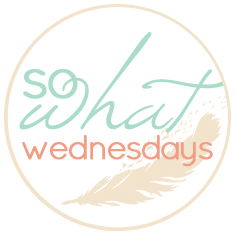 So What Wednesdays!
Go over to Life After I 'Dew' for more fun links!
Here is what I'm saying So What to this week:
So What If ...
I have decided to decorate for Christmas before I go back to work.
I am behind like three weeks of Teen Mom III and I don't even really care...this season is so boring.
Target's website and app are awful and don't work.
We are already listening to Christmas music at our house...Tuck LOVES it!
I tried to wear my hair curly on Monday...never again...it was awful and so sad. The Mr. even said...umm you're hair isn't curly anymore....
Our neighbors made us dinner on Sunday night and it was SO yummy! We are making it Thursday night for dinner!
I'm missing my sisters...glad the holidays are coming up so I can spend time with them!
I have a cart of stuff on Carters.com...it's fun to shop..even if I can't buy any of it. :(
I cannot believe the girls will be 2 months old Saturday!