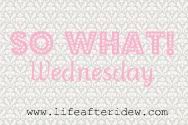 I love Granny Smith apples and carmel right now!

I thought it was fall? Why is it hot?

I am a planner...I do things way in advance because I have to. My life is pretty busy.

If my dogs are cuter than yours!

I'm looking forward to the teacher work day on Monday.

I want to do something different with my hair...but what?

I can't stand shaving my legs...and soon it will be very difficult to do it.

I want to see Lion King...I've seen it a million times but 3-D would be so cool!