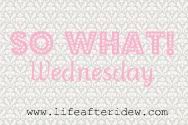 If I'm already online shopping/dreaming about what sweet Tucker will wear and use when he is born!

I have a count down to Labor Day weekend!

I ate two dinners on Monday night...I was hungry!

If I need Tucker to come so I'll stop taking TONS of pictures of my doggies. :)

I am loving when my students tell me I look nice since I don't feel like I look nice everyday.

I want a Kindle or a Nook bad! :) That will be on my Christmas list! I'm thinking this will be a good way to pass the time during those LATE night feedings!!