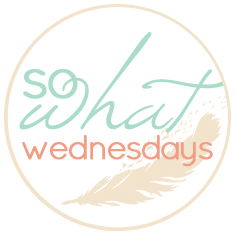 So What Wednesdays!
Go over to Life After I 'Dew' for more fun links!
Here is what I'm saying So What to this week:
So What If ...
I cannot wait to share the tradition of the Macy's Thanksgiving Day Parade and the Dog Show tomorrow with TJH!
I'm so very thankful that we are not in the hospital with TJH this year for Thanksgiving...so happy he's so healthy and big now!
I'm excited for the girls 2nd holiday!
This post is mostly about Thanksgiving...it's tomorrow!
Thanksgiving is most least favorite holiday, but as I get older I LOVE the family party of it...the food....yuck!
The kiddos have a causal Thanksgiving outfit and a dressy Thanksgiving outfit...it's necessary! :)
I hope TJH eats and enjoys the food!
I'm SO excited it will be the official start of Christmas on Friday! WHOOP!!!!!!