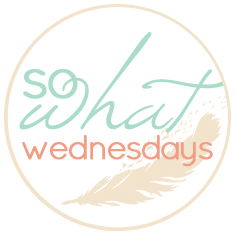 So What Wednesdays!
Go over to Life After I 'Dew' for more fun links!
Here is what I'm saying So What to this week:
So What If ...
I'm so glad TJH didn't wake up with a fever this morning...he's had a fever since Monday of 102-104!
I cannot believe that tomorrow is May!
We only have 12 more days of school! WHOOP!
I know why I LOVED Grey's Anatomy years ago! I started re-watching it from the beginning on Netflix and I just LOVE that show!
I'm hoping we can go pick strawberries this weekend!
I'm looking forward to more time to blog! I feel like I need some more creative posts...
We will be heading to the beach in about a month!