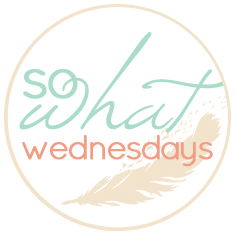 So What Wednesdays!
Go over to Life After I 'Dew' for more fun links!
Here is what I'm saying So What to this week:
So What If...
I can't believe today is the LAST day of July...where did summer go?
Speaking of summer...it's over for us...I went back to work yesterday.
I wasn't too sad to go back to work this year...I missed Tuck like crazy yesterday but I know he was in good hands! :)
I'm still on a Butterfinger kick...my FIL even bought me Butterfinger ice cream! :)
I think it's super thoughtful of my in-laws to give us an anniversary present! :)
I'm so proud of the Mr. for finishing ALL of his classes for his degree! Next step...student teaching! SO proud of his hard work and dedication!
My toes need to be painted super bad...but I can't reach them...
I sometimes think I have aliens in my tummy because the way the girls move my tummy looks SO weird! ha!