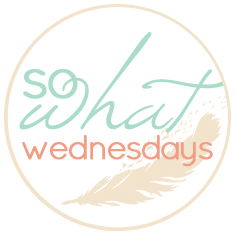 So What Wednesdays!
Go over to Life After I 'Dew' for more fun links!
Here is what I'm saying So What to this week:
So What If ...
I'm more sad about leaving Tucker than the girls when I go back to work. Yes, of course I'm sad about leaving the girls, but I have LOVED every minute of being at home with TJH...he's at such a fun age!
I'm so glad I'm getting my hair trimmed...I haven't gotten it cut since I donated my hair in April...I know, that's a long time without a haircut.
It's been good mail week!
I LOVE planning outfits for the girls with my Mom.
I'm so excited about playing Christmas music in my classroom...I've loved playing it at home.
I'm thankful our superintendent gave us back two of our furlough days! And we get the check for those days in December! WHOOP!
I'm so excited that Downton Abbey got renewed for season 5!
I'm still eating candy corn...ha! I'm on my last bag.