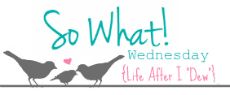 So what if....
I love our new U-Verse! It's great to have so many channels!

I think it's pretty cool that it's LEAP DAY!
I had the Varsity and Krispy Kreme all in one night!
I love how the Mr. makes up words to songs while still using the original tune.
It now takes me a lot longer to complete grad school work because of fitting it within Tucker's schedule.
I'm excited to make cupcakes...I won't get to make Easter cupcakes for them, but I get to make them for JLA next week!
I'm not sharing how many bags of Mini Eggs I've eaten so far!
I'm not a fan of leaving TJH...I know it's only once a week but it's not fun!
I gave up caffeine for Lent and I'm doing good so far!
I'm mad that Target has the CUTEST clothes right now, but I'm not ready to purchase any post-pregnancy clothes yet.
I'm ready to start running and doing yoga...but I don't want to rush time until the 6 week mark because that means my baby would be 6 weeks old.
I love the support we've gotten from our family and friends. It's wonderful to be surrounded by such wonderful people!