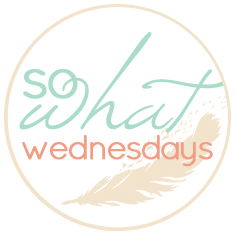 So What Wednesdays!
Go over to Life After I 'Dew' for more fun links!
Here is what I'm saying So What to this week:
So What If...
If I'm at work today for a little bit...doing some work with new teachers is fun and I know I still have some days off before I really go back to work.
I love looking at the hashtags on Instagram for twins, twin mamas or twin pregnancies...ha! :)
I won't miss the sleeping position I have to sleep in right now.
I love that Tucker will laugh out loud if we are laughing. :)
I'm happy to say that I've Cricut-ed most of what I need to begin the school year. I'm sure I"ll think of more that I need to do.
I'm going to miss the relaxed schedule of summer once I go back to work next week, but I'm looking forward to maternity leave with my family of FIVE!
I feel super guilty for not being able to get on the floor with TJH anymore...we've come up with a lot of things to play while I sit on the couch or a chair...but I fee like the worst mom ever!