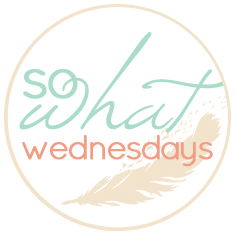 So What Wednesdays!
Go over to Life After I 'Dew' for more fun links!
Here is what I'm saying So What to this week:
So What If...
If I'm glad to be home, we had a great time in PTC, but it's nice to be home too!
I'm praying I passed my 3 hour glucose test yesterday...it was not fun.
I'm thankful for my BFF letting me borrow her maternity clothes!
I loved how excited Tucker got when we got home on Sunday...he loved seeing all his toys and just being in his home!
I'm sad that Finn died from Glee...he was one of my favorite characters...
I'm going to start working on school stuff this weekend...I have mixed emotions about it.
I love that Tucker will put my hands together to pray every night...it's so sweet!