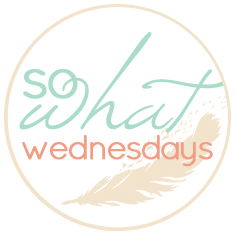 So What Wednesdays!
Go over to Life After I 'Dew' for more fun links!
Here is what I'm saying So What to this week:
So What If ...
I'm so glad today is the last day of the CRCT for the upper grades...our schedule can go back to normal!
This weather makes me a happy girl!
Bathing and putting the girls to bed is becoming so smooth now. :)
I love that Tucker asks to cuddle...how sweet?!?
I still haven't watched last weeks Scandal!
I'm so behind on SnapChat but I love it! :)
I'm praying for a sweet friend who lost her twin girls this week. Please pray for them...they were born at 23 weeks and 3 days and both lived for a few days but went to heaven.