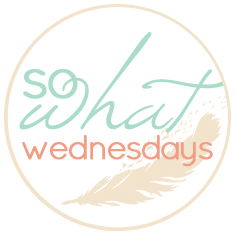 So What Wednesdays!
Go over to Life After I 'Dew' for more fun links!
Here is what I'm saying So What to this week:
So What If ...
I'm so excited that we only have 27 school days left!
I'm glad my hair is getting long again...I've missed it...it's taken almost a full year to grown back long again...remember it was this time last year when I donated 8 inches of my hair!
I'm so sad/happy that the girls are now sitting! Slow down sweet girls!
Tucker repeats EVERYTHING we say...including when we are giving him directions or just talking among ourselves. ha!
I enjoyed seeing my best friends last night...great mid week treat!
I'm SO sad that we only have 2 episodes left of Scandal! I'm going to re-watch it for sure this summer...because I'll know I'll start to have withdrawals!
Getting excited about Easter...I hope TJH enjoys hunting for eggs!