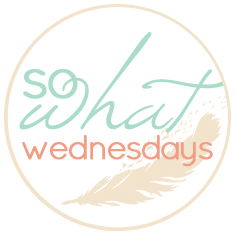 So What Wednesdays!
Go over to Life After I 'Dew' for more fun links!
Here is what I'm saying So What to this week:
So What If ...
I'm so into Insanity...I'm on day 4 with my sweet neighbor and it's so great to have a buddy!
I'm so sad our chicks are going back to UGA today...my kids learn about life cycles in Science so I had UGA bring in chicks for my kids to see...so cool!
I LOVE that we watch Scandal on Friday nights...it comes on way to late on Thursday, but it's the perfect Friday night treat!
The way Tucker says "I luh you!" I just melt...those are the sweetest words ever!
I work with the best people ever...they make me laugh and want to be a better teacher everyday!
Umm I cannot wait for the beach...to see 30 little toes in the sand!
I need Easter to come so I can wear some white pants!