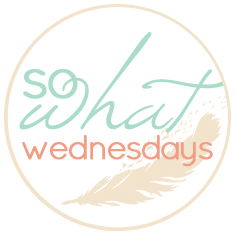 So What Wednesdays!
Go over to Life After I 'Dew' for more fun links!
Here is what I'm saying So What to this week:
So What If ...
I'm getting sad that the girls are getting so big...slow down little girls.

I have noticed a lot of bad things happening recently...this is a reminder that I have to rely completely on the Lord and pray to him all. the. time.

I painted my own toes successfully last week! This was a big deal because I wasn't able to reach them for a couple of months! ha!

I cannot wait to show off the kiddos Halloween costumes...they turned out SOOO cute! AH!

I miss my rings...remember...they had to be cut off when I swelled. :(

I'm so very thankful for our neighbor...she really is such an important part of our family!

I think it's funny that Tuck now says "No mam" to the dogs and us...it's because I saw it to the dogs! ha!

I have fully trained my hair to go a good while between washings! ha! (Yes, I do shower in between!) But my MIL taught me the trick of "training your hair" and it really does work! :) It's great since I'm a busy mama these days!