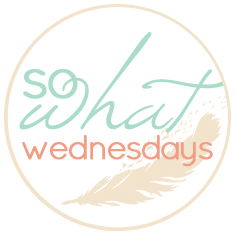 So What Wednesdays!
Go over to Life After I 'Dew' for more fun links!
Here is what I'm saying So What to this week:
So What If ...
I'm really enjoying watching Tucker learn new words and actions. It's so fun to watch him develop into a small boy. :)

I miss my best friends a lot. That's one thing that having new babies doesn't allow time for...friend time.

I'm making chili today and I can't wait to enjoy it this evening! I love fall food! :)

I find myself on Pinterst more now...probably because I'm nursing in the early morning and there is nothing great on Facebook or Instargram. I've missed Pinterst and I'm glad I have some moments to pin some stuff. And I love that I have some secret boards too! Don't want everyone seeing the girls birthday plans already! ha! :)

I love that we have been going on family walks in the evening. It's needed for everyone. And sometimes our sweet neighbors join us too!

I now remember why I started to drink coffee more regularly after having Tucker...it's this mama's go juice! :)

I need to get my hair trimmed...who's got time for that! ha!

I'm not looking forward to my 6 week appt tomorrow but I am looking forward to clearance to start working out again...this mama needs to be able to run...30 minutes of alone time with no distractions will be SO nice!