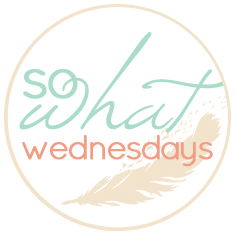 So What Wednesdays!
Go over to Life After I 'Dew' for more fun links!
Here is what I'm saying So What to this week:
So What If ...
I'm behind on my TV shows...I need to catch up...

I love that I can do TJH's nighttime routine again...it's been so fun to actually give him a bath, get him ready for bed, read, pray and sing him to sleep! :)

I got SO excited when I realized I could have tuna for lunch last week! WHOOP!

I'm so excited that the next time my mom comes up we are making all three kids Halloween costumes! (This is a big deal because she can sew anything but doesn't really like to make costumes...but these will be so fun and cute!)

I've really missed blogging...I told myself I really do need to make time for it at least every other day...it's a happy of mine!

I'm running low on candy corn...this is a huge deal...ha!

I cannot believe it's already October!

I like the new update on the iPhone...I know there are lots of complaints...but I've liked it so far!