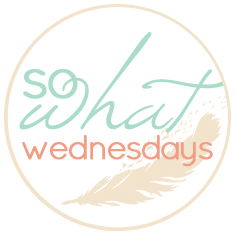 So What Wednesdays!
Go over to Life After I 'Dew' for more fun links!
Here is what I'm saying So What to this week:
So What If ...
I'm lovin' 2014 so far!
Tucker is talking more and more clearer everyday.
I LOVED that we didn't have school yesterday for freezing temps...only in GA. :)
I haven't watched Downton Abby yet...but while I was on maternity leave we watched the BBC version so I know what happens...but I am going to watch it this weekend!
My nails look black but the color is a dark green.
Running is my new "me time" and I LOVE it.
I cannot believe my baby girls will be 4 months old tomorrow!
Birthday party season has started and I'm so excited for Tuck to go to all of the parties!