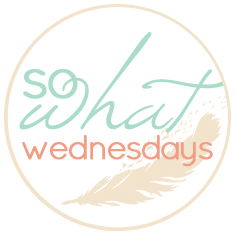 So What Wednesdays!
Go over to Life After I 'Dew' for more fun links!
Here is what I'm saying So What to this week:
So What If ...
I'm so excited about our summer beach trip..it's in the works and I cannot wait to have all three of my babies at the beach! :) Well 4, if you include the Mr.!
This week has been so busy at work but nothing too stressful...just busy!
I LOVE LOVE Tuck's little voice...I was telling my sister that I just want to record it.
I'm SO ready for Scandal to start up again! I'm having withdrawals!
My students wrote the best 2014 goals...o to be 7 again and be so sweet!
I'm thankful that the Mr. is enjoying his student teaching placement.
I miss my best friends a lot. We seriously always talk about buying a HUGE house and all living together...do you think our husbands would mind?
I'm really dreaming of doing some party planning...maybe I can make this dream happen.