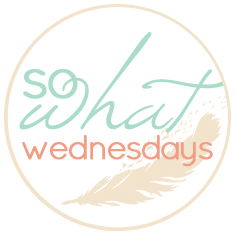 So What Wednesdays!
Go over to Life After I 'Dew' for more fun links!
Here is what I'm saying So What to this week:
So What If ...
I'm so glad today is Polar Express Day at school...PJS!!! :)
I'm so sad the girls got sick for the first time, but I'm glad it wasn't serious and not on Christmas...praying for healthy holidays!
I LOVE LOVE the new UV light the Mr. got me for my birthday...I love being able to do my own gel manicures at home!
I love how Tucker says "snowman"...I need to record it so I won't ever forget how he says it! SO CUTE!
At 29 years old I'm still learning who you can trust...and there aren't many people in this world!
I'm sad I have to wait until Feb 27th for the next esp of Scandal!
One more day with the kiddos and another work day and then it's officially Christmas break! WHOOP!