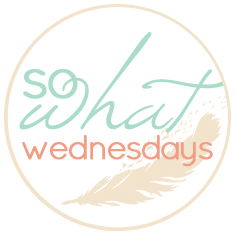 So What Wednesdays!
Go over to Life After I 'Dew' for more fun links!
Here is what I'm saying So What to this week:
So What If ...
It's my FAVORITE month!! Whoop!
I'm in love with all of the Christmas outfits my mom made for the kiddos!
Our Christmas card is perfect!! I'm SO happy with our how it turned out!
I still haven't watched Scandal from almost two weeks ago...I just haven't had time. :(
My students don't all really fully believe in our Elf on The Shelf...I still LOVE the tradition and love when my students really do believe in it!
I love seeing everyone's Elf on the Shelf pics...but people you don't have to post them online EVERY single day! Just post the COOL ones!
I totally change my whole outfit when I get home...student germs are AWFUL and I don't want to pass them to my sweet babies!
I'm so proud of my sweet husband for surviving a half a week by himself with all three kiddos!