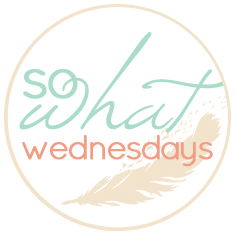 So What Wednesdays!
Go over to Life After I 'Dew' for more fun links!
Here is what I'm saying So What to this week:
So What If ...
I cannot believe that I have a 2 year old...slow down time!
I'm going to miss Aunt B so much when she leaves...she has been with us for two weeks. She's the best!
I'm PRAYING for good weather for Tuck's party!
I CANNOT wait to see my BFF's this weekend!
I'm nervous about taking away the Nap Nannys while the girls sleep...praying it goes smoothly.
I want to take home some of my students so I would know they were being taken care of....
I've enjoyed winter but I'm ready for Spring!
I can't believe the girls are already wearing 6 month clothes!
I'm so proud of how hard the Mr. is working on his student teaching! I know he's going to make an amazing teacher!