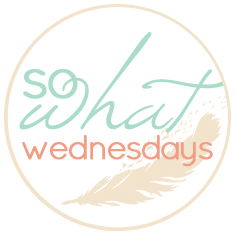 So What Wednesdays!
Go over to Life After I 'Dew' for more fun links!
Here is what I'm saying So What to this week:
So What If ...
I'm loving these days at home! Not even going to think about the thoughts of making them up.
Tucker pretty much repeats and says everything we say now...it's so cute...but also we have to watch what we say all the time.
As much as I love all this time at home, I'm looking forward to warmer weather so we can get outside and play!
We are still having Tucker open his birthday presents...we are taking it slow...it's so much fun this way! Especially since we are stuck in the house!
I'm praying we don't loose power...ugh so scary with three little children.
I had an absolute blast this past weekend with my best friends...post coming soon!