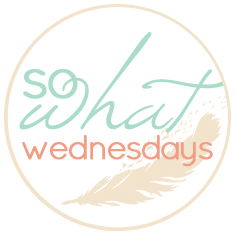 So What Wednesdays!
Go over to Life After I 'Dew' for more fun links!
Here is what I'm saying So What to this week:
So What If ...
I'm letting you know that I only have 2 more days of school! WHOOP! Can't believe I'm almost done with my 5th year of teaching!
I'm so excited that I will see my best friends this weekend and get to celebrate a special friends 30th birthday!!
After 12 days of being super sick I finally went to the doc...serious sinus infection...but I got a ZPack! Thanks goodness for good meds!
I'm looking forward to the many summer programs our local library offers...I think Tuck will really enjoy them!
I'm so excited about my community and school family coming together to do a big work day on the house for the family that lost their father.