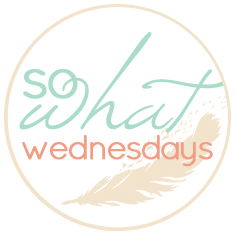 So What Wednesdays!
Go over to Life After I 'Dew' for more fun links!
Here is what I'm saying So What to this week:
So What If ...
I'm SO happy we have 7 days of school left! WHOOP!!!!
I'm so excited that the Mr. graduates tomorrow! Can I get another WHOOP?!?!
Took some time off of Insanity because of being sick...but I'm back on the Insanity horse!
I'm SO over this head cold thing I have. I want to be able to breathe and taste my food again!
I love how interactive the girls are with each other...even getting upset when the other takes a toy....it's so cute!
Tucker says "Shake your booty" and it's so darn cute!
I'm going to miss my students...they are a super smart/challenging class. And some of them are so funny!
I'm excited today is my "Friday"!