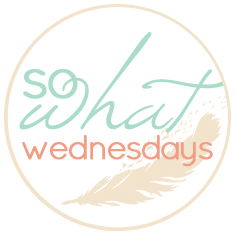 So What Wednesdays!
Go over to Life After I 'Dew' for more fun links!
Here is what I'm saying So What to this week:
So What If ...
I'm SO glad to be blogging again!
I can't believe I missed two days of work, but my babies come first!
I still need to watch the last three episodes of Downton Abby....I know, I'm so behind!
Our summer vacation is booked and we CANNOT wait! We seriously talk about it at least once a day!
I'm hoping all 14 of my conferences go well today!
I'm SO over this cold weather...it's SPRING!