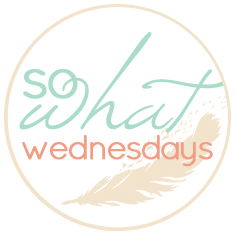 So What Wednesdays!
Go over to Life After I 'Dew' for more fun links!
Here is what I'm saying So What to this week:
So What If...
I'm looking forward to seeing what these two sweet girls look like!
I miss my favorite restaurant from my college town, but I found a place here that makes the salad I always got and it's SOOOO similar! :)
I'm looking forward to a low key weekend and a trip to the spa.
I've mastered getting ready for work in about 15 min in the morning from the time I roll out of bed to the time I get in the car...that's called good preparation! ha!
I love that my students are so willing and excited to learn this year!
I want a cookie cake from Great American Cookie Company...nope no occasion...just because!
I love that my sister is so happy with her new job and life right now. It makes me happy to see her happy!